These seminars and workshops have been selected by the volunteer, 2018 WholeExpo Education Committee:
Margaret Cheasebro, PhD – Author, Shaman, Reiki Master; Hunter Harrel – Editor, Healthy Living; Martin Model, MSW – Clinical Psychotherapist; Marge Morris, M.Ed, RD, CDE; Judy Siekerk – WholeExpo Producer (Retired)
2018 WholeExpo Speakers
SATURDAY, September 8th
11:00 – 12:00 Noon
Collaborating with Your Own Life...Cancer Cured in 110 Days
with Dale Lawrence
This is a rare opportunity to plunge into your self... into your beliefs... into your own living well life. Join Dale as he takes you on a learning journey of living life on your own terms, out-loud and on purpose. Learn personal wellness collaboration and personal joy discovery. Forty-five years ago, Dale was diagnosed with terminal Systemic Lupus. Since then, he has powered through numerous heart attacks, a kidney transplant, emergency open heart surgery in 2014, terminal cancer diagnosis in 2016, crushed vertebra and spinal illness in 2017 and other distractions
Dale Lawrence is a gifted and accomplished communicator and coach who assists individuals with clarity, obstacle resolution, and releasing of old and anti-purpose-driven patterns or behaviors. Through healing words and actions, he facilitates the discovery of needed and the unneeded patterns to be realized, embraced and categorized. Whether that is embracing strengths or releasing restrictive programming, beliefs or understanding our emotional reactive behaviors. Dale's seminars won't leave you wondering. They are all packed with an ample amount of common truths, personal application methodology, tools, humor, and "A-ha" realizations.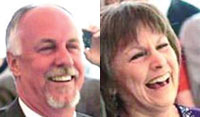 12:00 – 1:00
Connect With Your Angels Through The Four Languages of Spirit
with Susan and Paul Kellogg
You have a personal team of angels/guides that are available to help you 24/7. In this highly interactive session, explore keys and practical techniques to more clearly sense, understand and ACT on the 90+ daily psychic messages available to you. Learn how to be more aware of your four innate perceptions: Intuition (clairaudience), Vision (clairvoyance), Feeling (clairsentience, healing) and Prophecy (precognition, dreaming).
Dr. Paul Kellogg has been a pioneer in the field of psychic development and angel communication, being featured on numerous newspaper interviews, radio and television shows throughout the United States, and internationally in Australia, New Zealand, the United Kingdom, Ireland and Canada. Dr. Susan Kellogg has initiated community programs on Spiritual Parenting for parents, teachers and community leaders to back those "old souls in young bodies." As Ordained Ministers with Peace Community Church International, they have provided healing services for people of all denominations.
1:00 – 2:00
Map Your Four Sacred Money Elements
with Dana Stovern
The sacred space of your money transaction point holds intricate information about your money relationship for healing. In this mini-workshop, learn how to unpack your money transaction point and hold presence for better money relationship. Also, learn about the Four Sacred Money Elements that are always vibrating in this space, creating the color and texture of your money life: Masculine Money, Feminine Money, Money Value and Money Empowerment. Embracing the presence of these four elements will help you gently and holistically re-tune with your money relationship for better money relationship!
Dana Stovern, Somatic Money founder and coach, delivers inspired messages encouraging audiences to explore authentic money relationships with unique tools for deeper personal value and empowerment. The Somatic Money focus arrived in Stovern's life after a tragic loss that triggered her need to find better answers. Somatic Money became her necessity of invention that she successfully developed and now provides as coaching to business owners and professionals across the country. Her work is at www.somaticmoney.com.
2:00 – 3:00
Benefits Your Body Receives from Cryotherapy
with Colleen and Sherri
Our presentation will educate you on the many health benefits you can gain by using Cryotherapy to decrease toxins and inflammation in your entire body. People have used Cryotherapy as a way to manage their pain, stress, autoimmune disorders, headaches, fatigue and sports performance just to name a few things. We would discuss the two types of machines and the uses for each and who would be a good candidate for Cryotherapy.
Sherri and Colleen attended from Fort Lewis College together. After years of holding varies professional jobs, they were keen to get into a business of their own. Sherri and Colleen discovered the benefits of Cryotherapy and became strong believers of its uses in pain management and how it compliments other therapies without the use of drugs. This was their first step into the world of Cryotherapy and as they would say, "the rest is history."
3:00 – 4:00
Creating the Platform for Abundance
with Leslie Fonteyne
Abundance is our birthright, but our energy can be compromised by lifetimes of conflicting priorities, fear-based programming, heavy emotions, cultural baggage, guilt and outdated agreements—just to name a few! In this class, you'll learn techniques for identifying the blocks in your field. Then, with the powerful presence of Ascended Masters, Archangels and light beings, we'll clear and release them. We'll bring your energy field and your desires into alignment, and set you on the path toward attracting your personal abundance.vThis is a hugely powerful, high-vibrational experience. Come ready! You won't be the same.
Leslie Fonteyne is a transformational healer, teacher, channel and coach. She works with clients to release deep energetic blocks that prevent the fullest expression of their soul essence, working with Ascended Masters, Archangels, and light beings. She has published teaching and meditative clearing audios that will be available at the lecture.
4:00 – 5:00
Hopi Prophecy—Hope For Humanity
with De Alva Ward
Hopi people of Arizona have been following the teachings and living with greater meaning of being connected to Mother Earth because of their prophecies. Predicted that a planetary shift has and will take place. It is through these changes that a higher consciousness of humanity will evolve. This awakening has shattered the Mind, Body, and Spirit to clear a path of rememberance of why you are here and to open you up to your soul's purpose.
De Alva Ward is a southwestern Shaman of Hopi / Kaibab Paiute Tribes of Arizona. As a practitioner of Energetic Transformation she incorporates her cultural beliefs in her practice to bring balance to Mind, Body, and Spirit to her clients. As a Spiritual Teacher she teaches about vibrational shifts with humanity, Hopi Prophecy connections, empowering your soul purpose, and Mother Earth teachings for a modern lifestyle.
5:00 – 6:00
Past Life Regression Hypnosis/Metaphysical Concepts of Time
with Holly Duckworth
The therapeutic benefits of past life regression hypnosis are well documented. Emotional and physical trauma can carry over from one life to the next. Our eternal souls carry all of our experiences. And even more mind-bending is the concept that time isn't real. If everything is happening at once, past lives are really other lives. And the energetic frequencies from your other lives can affect your subconscious in this life. Do you have health issues that may be related to past life events? How are these carry overs connected to your life here? Find out more in this session!
Holly Duckworth has a Ph.D. in psychology and is a registered psychotherapist practicing Quantum Healing Hypnosis Technique (QHHT). Years ago, Holly attended a group regression delivered by the well-known Dolores Cannon. It was then that Holly experienced a past life beyond her wildest imagination, thus turning a skeptic into a believer! Through her QHHT, practice she has witnessed wonder-full psychological, social, and physical healing, emphasizing that we are just spiritual beings having a human experience!
6:00 – 7:00
CBD and the Endocannabinoid System
with Petra Sullwold
The Endocannabinoid System plays a crucial role in regulating our physiology, mood, and everyday experience. Cannabinoid receptors are found throughout the body, primarily in the immune system and the structures associated with healthy immune functioning. With these cannabinoid receptor sites spread throughout our entire bodies, it is paramount these receptors are working properly to keep this important internal system functioning to protect you. In this talk, you will learn in-depth information on how the endocannabinoid system works and why CBD oils can be so effective for all kinds of ailments such as depression, anxiety, cancer, insomnia, brain issues and many others..
Dr. Petra Sullwold, DC is a human and animal chiropractor in Mancos, CO. She was first introduced to CBD when several of her pet patients seemed to be doing remarkably better after receiving CBD products. When numerous of her human patients started to interview her about CBD, she went on a mission to educate herself on the benefits, myths, science and research behind CBD. She is excited to share her journey into the world of CBD with you.
SUNDAY, September 9th
9:30 – 11:30
Agape in Durango Presents: Live Streaming of Michael Bernard Beckwith from Agape International Spiritual Center
Experience the powerful message of mystic, author and visionary, Michael Bernard Beckwith, and the expansive music of Agape. We will LOVE Stream Live the Agape International service as it is happening in Los Angeles. The message that moves through Beckwith is keenly relevant for this time on the planet.
11:00 – 12:00 Noon
What is Hyperbaric Oxygen Therapy
with George Glass
What Is Hyperbaric Oxygen Therapy? What Can It Do for Me? What is Hyperbaric Oxygen Therapy (HBOT)? What is the history of HBOT. What happens to our physiology with HBOT. What are the current uses of HBOT. What HBOT can do for you or a loved one who has: Cancer * Bone or Tissue Not Healing properly • Burns • Cerebral or Pulmonary Edema • Autism or Asberger's • CP • MS • TBI • Stroke • Migraines • Alzheimer's • Rheumatoid Arthritis • Fibromyalgia & Chronic fatigue, Etcetera? "This is simple. Hyperbaric oxygen treatment puts oxygen into tissues that don't have enough so these tissues don't die, or so they can heal." Paul G. Harch, MD from the book Oxygen Revolution.
George Glass, LMT, BCTMB, Med, BA resides in Durango, CO, opened Mountain Hyperbarics for hyperbaric oxygen therapy with Kirsten "Kicki" Searfus, MD, as the prescribing doctor, and is a Massage Therapist, Educator, Writer, and Business Owner with FuXion Biotech. George has over 25 years' experience in the healthcare field. George is passionate about advocating for positive change in the quality of people's lives. This is driven by the desire to seek out what is possible.
12:00 – 1:00
Where Did My Energy Go
with Dennis O'Brien
This talk helps people understand their own physiology as it relates to their energy levels (or lack of). The listener will learn how to recognize the signs that your body is giving as well as how to ask the right questions of health care providers. Also covered are potential stressors that may be robbing your energy, and possible solutions to restore it.
Dr. O'Brien is a licensed DC in Colorado and a Naturopath (WY), a unique combination in natural health care. In his 26th year in practice, he has helped thousands of patients regain and maintain their health using natural health care solutions such as, non-force chiropractic, muscle testing, whole food supplements, cold lazer therapy, allergy elimination, immune response testing and more.
1:00 – 2:00
Women Are Marching
with Larry Martin
CEO's and government officials are retiring in record numbers. Accusations of violating women as well as various laws are causing them to flee. Why now? A new planet has been discovered—it's as if the archetype of that new planet alters our collective conscious. Now comes Haumea and her two moons. Join Astrologer, Larry Martin, on a fascinating hour with this goddess of Hawaii telling stories to those who listen. Her theme is Integrity, which breeds honor and wisdom. Hard lessons are prophesized if we ignore the warnings. Be Present, In The NOW!
Larry Martin emphasizes a holistic approach to astrology integrating psychology and counseling. In private practice full time since 1992, Larry was People Magazine's On-Line astrologer (1996-2001) and has appeared on radio and the web delivering phenomenal insights with an emphasis on success. His engaging and fun-filled talks thrill local, national and international conferences. Awarded Outstanding Contribution to Astrology in 2014 by the Arizona Society of Astrologers. Learn more about Larry at http://www.larrymartin.biz. Connect with divine source and evolve to new heights; Discover the biggest myths/blocks to spiritual awakening. And more… He has a BS in Neurophysiological Psychology, MS in Counseling/Human Services and a PhD in Self-Actualization Psychology.
2:00 – 3:00
Your Vibrant Health Depends on Calming Your Nerves
with Lori Lakshmi
Many people come to me after all of the tests are done and their doctors say, "Nothing's wrong." But, most doctors and the general population don't connect illness with the nerves. Our nervous system does a myriad of jobs, automatically, every second of our lives, in order to keep us alive. The nerves puff up muscles to protect an injured area which can push bones out of place creating pinched nerves and pain. If the nerves are addressed first, in the process of healing, then it opens the door for other modalities to be more effective. Come and learn more.
Lori Lakshmi is a trained dancer, Yoga teacher, Pilates Instructor and Bowen Nerve Trauma Release Specialist. She gives Bowen treatments and offers classes teaching people how to do the Bowen basic moves. She teaches Pilates at Pilates Durango and integrates her knowledge of the nerves in movement. She knows, through her experience, that gaining the understanding and knowledge of how the nervous system functions, anyone at any age can stay young, fluid and elasticized.
3:00 – 4:00
Overcoming Tornadoes in Life
with Trisha Dolan
We are Spiritual Creatures having a Human Experience. Sometimes, human life is messy—Full of trials, tribulations, turbulence and even fury. Trisha will share a story about one of her tornados, and how she came to the other side of the storm to peace. She will give you tools to maneuver the tornados for you to find peace.
Being born with the gift of insight, Trisha is Clairvoyant and Clairaudient. Her lifetime journey has been using her intuitive gifts—from seeing the deceased since childhood, to being a professional Medium since the early 1990's. Trisha receives joy guiding people in solving their problems, discovering their niche in life and following their dream to achieve success. Certified by Dr.Doreen Virtue as an Angel Therapy Practitioner (TM), she travels extensively touching people's hearts with powerful messages. www.TrishaDolan.com
4:00 – 5:00
Healing Your Body Through Proper Nutrition
with Ange Alex
Ange Alex takes you through her own personal journey to healing that resulted in her amazing 80 pound weight loss and reversal of several chronic illnesses. Her stories inspires and is filled with comedic moments, all while walking you through her 5 steps to change your health and your life.
Ange Alex, N.D, specializes in nutrition and loves to teach others how to heal their bodies. She also teaches on the power of minimalism, having traded in the house and car for an RV and has traveled full time for the last 3 years with her husband and 3 kids. Ange is an advocate for health and understanding where your food comes from as well as the power of travel. In 2018, she and her family became part of a documentary on alternative living and travel.