These seminars and workshops have been selected by the volunteer, 2021 WholeExpo Education Committee:

2021 WholeExpo Speakers
Click here to see last years Seminars & Workshops
SATURDAY, September 11th
11:00 – 12:00 Noon
Electrify Your Life with Angelic Solutions!
with Judy Katzin, MA
Do you know you have your own unique team of Angels? They are dedicated to inspiring you to live your best life! Are you paying attention to them? You will experience 5 spiritual techniques to: Tune into your angels' wisdom and inspiration. Learn to relax and feel their presence. Discover creative solutions to your challenges. Find the difference between living life the simple way or the hard way. Angels can help you align with your purpose and clarify your next steps.
Judy Katzin is an international Spiritual Educator. Her background includes 30 years as a speech pathologist and learning disability teacher, and 21 years as a Certified Spiritual Educator. Judy gives personal, spiritual profiles live and on zoom, and has instructed courses and workshops all over the US and abroad. She has a passion for helping people transform their lives, embrace their power and live their unique life purpose with joy.
12:00 – 1:00
BEING the Healer, Pt. II
with Rev. George Harris
We can all BE our own healers. All of us as children live in our emotional body between the ages of 0-7, meaning that we "feel" everything going on around us and then we create negative thoughts from those fear emotions and stuff both of them in our physical body and then we suffer dis-ease and sickness. This Treatment/Healing center deals with all emotional upsets that are currently labeled as mental disorders by the AMA,including depression, bi-polar, ADHD, PTSD and others. Besides the talk which I adjusted somewhat, Rev. George will do some healing work on people to experience and teach them energy work they can do.
Rev. George has been on a healing journey since age 7 when he realized why he had an ulcer and did self-healing. At age 10 he asked himself why there were people at a doctor's office when he knew they could heal themselves. He has learned forms of energy healing but especially using the gift from God of seeing old thoughts and emotions in people's bodies and healing them. He is also just recovering from throat cancer and will include his journey of healing.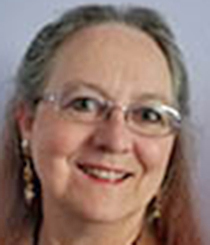 1:00 – 2:00
Energy, Frequency, Vibration: Using Grids and Crystals for Positive Manifestation
with Cynthia Roedig
This seminar will give the novice practitioner the basic skills and knowledge required to choose an appropriate grid pattern, crystals, and mantra to manifest the desired outcome. The discussion begins by exploring frequency, vibrations, morphogenic fields and consciousness, followed by an overview of the energetic attributes of six common grid patterns. Then a brief overview with pictorial samples on how to choose stones and crystals to complement the grid and support the positive phrasing of the manifestation mantra. Attendees will receive, FREE, 4 different, small grids printed on paper. They will receive a sheet describing 6 different stones - small 3-5mm stones, and will be individually bagged in quantities of 6 or 8. After the lecture, they may pick 2 different stone bags to take home. Pens and notepads are also supplied for note taking.
Born in and currently residing in the mineral-rich state of Arizona, Cynthia has had a life-long love of the world of minerals and crystals. Over the years the concepts of metaphysics joined the science of the chemistry of stones. With the addition of Reiki training Cynthia helps clients choose stones just right for them. On occasion, she receives and gives messages to people from their pocket stones.
2:00 – 3:00
Health from the Inside Out: Using Fitness, Nutrition, and Psychology to Magnetically Create a Life of Absolute Joy
with Stacy Reuille-Dupont, PhD, LAC, CPFT, CNC
True fitness doesn't start with your body, it ends with it. Join us to learn how you can tap into your inner power of magnetism and create a life you love. We'll explore underlying psychological constructs that get in the way of building a life of absolute joy and abundant health. We will explore how you can use your internal superpower - emotion - to draw a sense of strength and bliss into your daily actions and follow through on your health goals. When you integrate feeling strong, exhilarated, and balanced in your choices you'll discover health from the inside out.
Dr. Stacy Reuille–Dupont is a licensed psychologist and addiction counselor as well as a certified personal trainer and nutrition coach. She has over 25 years of experience working in the fitness and wellness industry and over a decade working in community mental health, integrated care, private practice, and developing Studio B, an integrative health clinic that feels like a health club.
3:00 – 4:00
Light, Love, & Laughter
with Lali Kakar
In this provocative and insightful lecture, Lali talks about the Indian Vedic system of divination. He has worked with many celebrities - Dr. John Gray, Martin Luther King Jr.III, Robert F. Kennedy Jr., Jack Canfield, Loretta Swit , Marianne Williamson, Mariam Hemingway, Doreen Virtue, Shiva Rea , Billy Corgan, Jill Lublin, Debbie Ford, & CHER.
Lali has trained with many Indian Masters in the Ancient Arts of Indian Vedic Divination.
4:00 – 5:00
How Plasma Science Helped Eliminate My Sister's Advanced Ovarian Cancer
with Michael Glant, MD
As a retired research pathologist, Dr. Glant was distraught when his sister was diagnosed with advanced ovarian cancer. Then he discovered the Keshe Foundation. Using Keshe open-source patents, he developed treatment and was astounded when her cancer was entirely gone (proven by complete hysterectomy and scans) in 6 weeks. She has remained disease free to this day without any other therapy. He will explain this new area of physics, how he treated his sister and others, and how this can be used by anyone with low cost and amazing benefits.
Dr. Michael Glant was a professor at Indiana University of Medicine where he started the Cytopathology Fellowship. In 1985 he left to start what evolved into a large reference laboratory serving a five-state area, a group involved in national education/proficiency testing and the main anatomic reference laboratory for the largest FDA Clinical Trial laboratories in the world. In 2010, he became the medical director for Orchard Software to develop artificial intelligence before retiring in Durango.
SUNDAY, September 12th

9:30 Meditation 10 – 11:30 Service
Agape Durango Presents Michael Bernard Beckwith, modern mystic and author.
Join us as we LOVE Stream Live the Agape International Spiritual Center service while it is happening in L.A. Experience Beckwith's empowering message and the expansive music of Agape. The insights that move through Beckwith are keenly relevant at the transformational time on the planet. 970-759-4637.
12:00 – 1:00
The Art of Choosing, Using, and Wearing Gemstones, Crystals, Totems and Sacred Geometry Consciously
with Donnareyna Sessler
Donnareyna and Tricia will share the self-healing benefits of using and wearing gemstones & sacred geometry consciously (Spiritual Gemology) and the coordination of the different rays of color of the gemstones with the chakras. There will be a 9 Chakra Stone Meditation starting with the black brown & metallic grounding & psychic defense stones coordinating with the stones of the Rainbow (ROYGBIV) & completing & ascending with the luminous clear & white stones being passed around in our circle. You¹ll learn techniques such as kinesiology, pendulum dowsing, and trusting your own intuitive abilities in discovering the areas of your body that resonate with certain gemstones & their healing attributes. You will be given specific techniques for cleansing your crystals,stones & jewelry especially heirlooms and antiques with the 5 elements. A crystal grid will be set up with the assistance of members in the class to create a sacred space that can be duplicated any place at any time.
Donnareyna Sessler has over 30 year of experience as a Jewelry Designer,Spiritual Gemologist, Educator, Minister, Oracular & Intuitive Consultant. Donna uses extensive energy medicine techniques,(color, music, healing essences & herbs from the plant kingdom), and gems & crystals - her specialty is the Mineral World.
1:00 – 2:00
Sustainable Living & Living in an Off-Grid Home
with Shalina Luna
Shalina will discuss solar power, water catchment, composting toilets, insulation and natural building products, along with information on how to live off the grid.
Shalina Luna is a Sustainable Living Consultant currently living off the grid outside of Durango, CO. She focuses on sustainability-driven projects such as natural building materials, active and passive energy and alternative water source systems. As a research writer, Shalina strives to provide up-to-date education and resources for the ultimate experience in creating a sustainable lifestyle. Shalina and her family's work as an owner-builder has been featured on Discovery Channel's DIY Network Building Off the Grid. She is editor in chief of Elements of Sustainable Living, where she provides readers with the resources needed to educate themselves on taking the proper steps to a natural way of life.
2:00 – 3:00
Hello Again From the Other Side
with Trisha Dolan
Experience the opening of the door to the "Other Side" in messages you receive from departed friends and loved ones. Do they just want to let you know that they are around you, that they are okay?
Trisha is a Psychic, World Renowned Healer and Clear Channel Medium.
3:00 – 4:00
Walking into a Journey of Compassion
with Jesse An Nichols George
An shares about her journey as a walk-in who has stepped into this existence for another soul. She is here to continue a mission of compassion, and to assist those that choose to strongly embrace their own journey on Earth through living a life that is rooted in compassion for themselves and others. It is through compassion that we can unite soul to soul to maneuver this 3rd Dimensional world in a time of major shift and transitions. It is through embracing our own personal journeys that compassion is released into our world.
An is a Magi walk-in who relieved another soul. Together they have created 9 books, including the Best Seller "The Code Journey". Jesse also collaborated on the International Best Seller "Embraced by the Divine: The Emerging Woman's Gateway To Power, Passion, and Purpose". Jesse hosted her own international radio show for 5 years, and created the Genesis Clearing Statement. Their work utilizes over 40 years of experience, and blends over 50 different modalities.
4:00 – 5:00
Breakthrough to True Brilliance!
with Doc Roberts, PhD
Experience enlightening discoveries gleaned from NeuroScience and Breakthrough Psychology. Accelerate spiritual liberation and embody your extraordinary potential. Easily overcome self-defeating habits and emerge as who you were born to be. Make personal changes you've longed for using these powerful tools: Neuroplasticity - deprogram cultural conditioning and breakthrough to new possibilities; Attention - real secret to waking up from life on autopilot; Fear - transform fears into allies, opening true creative freedom; The "Zone" - live in divine flow allowing your greatest good to blossom effortlessly; Your Calling - embody greatness, share your special gifts and align with the support of Divine Creative Intelligence.
Dr. Roberts is a breakthrough psychologist, author, spiritual guide, internet entrepreneur and motivational speaker/consultant to Fortune 500 companies. With an extensive background in transformational psychology, his seminars have guided 10's of 1000's of individuals to wake up and live to their full potential. He has a BS in Neurophysiological Psychology, MS in Career Counseling/Human Services and a PhD. in Human Potential Psychology.