2022 WholeExpo Patio Events
Click here to see last years Patio Events
SATURDAY, Sept. 10th
10:30 – 11:15
Shamanism and the Sacred Seeker
with Jennifer Lynn Jacoby
Shamanism is a mystical, earth-centered tradition. Its ancient practices celebrate the spiraling rhythms of nature, nourish the soul, and cultivate direct experience of the Divine. Recognizing the interplay of worlds both seen and unseen, our shamanic ancestors walked the Otherworld in search of wisdom, guidance and healing. Today, that journey still calls to us. It whispers through our soul, "Remember…." Attendees of this discussion will discover basic shamanic concepts and cosmology. They will hear how the ancient art of shamanic journey can lead to healing for mind, body and soul, and can awaken the self to the Mystery.
Jennifer Lynn is a spiritual consultant, a soul midwife, a shamanic Druid Priestess, and a modern-day mystic specializing in Celtic mystical techniques and practices. With thirty years training and experience, Jennifer brings an extensive repertoire of tools and techniques to each session. Jennifer is also a Chinese medicine practitioner and a Minister of the Circle of the Sacred Earth, a church of animism fostering shamanic principles and practices. For more about Jennifer, visit www.ThroughShamansEyes.wordpress.com
11:30 – 12:15
Awaken Your Soul Through Soul Activations
with Sonya Flores Lugo, Ph.D
The time has come to awaken humanity's greatest power —the higher functioning capacity of the Soul — to make possible enhanced human functioning, including activating an immune system capable of taking on any viral threat. Awakening the SuperPowers of the Soul has become the watershed moment of our lives, which is critical for our survival. "The Wake Up Call" has sounded to deal with the serious challenges that presently face us. Sonya will speak about the Soul's extraordinary powers and invoke the presence of every person's Soul so that everyone can receive a direct message from their Soul.
Sonya Flores Lugo, Ph.D, "Sophia" is the Founder of the University of the Soul, an educational venue created for awakening the Soul's extraordinary powers, making possible enhanced human functioning and healing abilities. Sophia had studied with shamans from the Amazon Jungle of Peru over a 20-year period to activate the unparalleled abilities of the Soul.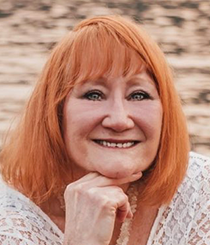 12:30 – 1:15
Mercury Retrograde
with Trisha Dolan
Mercury Retrograde is a curiosity to many people - a mysterious occurrence that fouls up computers, derails plans, causes delays, and generally confuses communications. And this is partly true. But there need not be worry around the concept of this planet "turning retrograde." Once you understand what this implies, you can begin to use the energy to empower yourself.
Trisha is a Psychic, World Renowned Healer and Clear Channel Medium.
1:30 – 2:15
Introduction to Access Consciousness
with CJ Marten
Access Consciousness is available in more than 170 countries and has contributed to changing the lives of tens of thousands of people around the world for the past 30 years. Hands on Access Bars® teaser.
CJ Marten is originally from Wisconsin and has recently moved to Durango. She has been an Access Consciousness Bars® Facilitator for the past 10 years, offering Bars® sessions along with offering a one day class to those interested in becoming a Bars® Practitioner. A Bars® session will either feel like the best massage you've ever had or it WILL change your life.
2:30 – 3:15
Ignite Your Fire Within!
with Erica Rasmussen
Say goodbye to what holds you back in this inspiring, uplifting and energizing session! We'll have a campfire together to help you energize your own fire within! We'll turn down the volume on what holds us back and fuel our inner-fire with self-talk that accelerates us forward on our paths to find more balance and purpose. Join the campfire!
Erica Rasmussen, Certified Oola Life Coach and founding Oola Ambassador, is passionate about helping others see what helps burn their fire even brighter! As a mom of two young kids, wife, nonprofit leader and business owner, she became a life coach to better juggle her own life. Now, she shares her enthusiasm and wisdom with others also on a quest for living more positively with better balance.
3:30 – 4:15
Durango Shimmy Mob
Durango Shimmy Mob celebrates the art of belly dance while supporting Alternative Horizons with raising awareness about domestic violence prevention. Shelley Millsap, Durango Shimmy Mob Team Leader 2016-2021.
SUNDAY, Sept. 11th
10:30 – 11:15
Primal Vitality: The 3 Pillars to Uplevel Your Vitality in Less Time
with Sage Peterson
Primal Vitality has a unique commitment to our Primal Nature while being relevant to the modern cultural business of entrepreneurs, parents and high achievers. I will share the 3 pillars of Vitality that help you win the day with a sense of accomplishment and energy, how to maintain high performance and injury free as you age, and how to make Vitality easy and time effective so it feels like an expression of who you are as opposed to a chore.
Sage Petersen is a lifelong student of performance, martial arts and the nervous system. He competed in martial arts at a high level and has since dedicated his life to learning how to maximize energy, vibrance and performance in life. He teaches movement, nature connection and strengthened mindset so his students can be Fit, Free and Fierce.
11:30 – 12:15
What Is the Beef with Self-Compassion?
with Barb Horn
Self-Compassion gets a bad rap. We often think we do a good job of dosing this out for ourselves but do we? Self-Compassion is a key ingredient to eliminating our inner and outer world divisions and separation. Join Barb in demystifying this powerful way of being and walk away with hands-on practices you can use immediately. Just attending is an act of seeing your amazing self.
Self-Compassion gets a bad rap. We often think we do a good job of dosing this out for ourselves but do we? Self-Compassion is a key ingredient to eliminating our inner and outer world divisions and separation. Join Barb in demystifying this powerful way of being and walk away with hands-on practices you can use immediately. Just attending is an act of seeing your amazing self.
12:30 – 1:15
Three Treasure Activation
with Caren Truske
According to ancient Taoism, we each are imbued with incredible potential, 3 fundamental energies or "Treasures" that when fully developed, create physical, emotional, mental and spiritual strength, harmony, and balance. By activating, balancing and harmonizing these 3 centers and the alchemical flow of energy between and amongst them, we age gracefully, become masters of our energy, elevate our consciousness and align our life with our unique and individual soul purpose, gracefully navigating change and awakening to infinite possibilities irregardless of age. Join me in activating your 3 Treasures!
Aligned Living founder Caren Truske, utilizes Kinesiology, Breath Work and Vibrational Sound Acu-Tuning to assist and support athletes (including horses) and people of all ages in optimizing performance and living ALIGNED harmonizing Body-Mind-Spirit, connecting with one's Authentic Self and Life Purpose. A certified Brain Gym® and Yoga Instructor, Spiritual Practitioner, Kinesiologist and Developmental Movement Specialist, Caren's classes, workshops, and sessions are insightful, playful, developmental, healing, evolutionary, integrative, transformative, and downright fun!
1:30 – 2:15
5 Element Qigong
with Eric Roig
A nourishing and integrative embodiment practice to help calm your nervous system, and release mental and emotional stagnation.
Eric Roig is a farmer, landscaper, permaculture designer, and father who is passionate about our connection and stewardship of Earth. Through his training with martial arts, he eventually came upon Qigong and fell in love with the simplicity and potency of these ancient Daoist practices. He is a certified Medical Qigong Practitioner through the Noble Movement Academy and the International Institute of Medical Qigong, and has taught numerous classes in person, at festivals and events, and online.
2:30 – 3:15
The Power to Break Free and Transform Your Life
with Shari Silvey
Shari Silvey is a mystical storyteller from Sedona, Arizona who journeys into the wilderness to hear messages from unseen dimensions. She transcribes these messages into her paintings, card decks and intuitive readings. Her passion is to share this process with others at her retreats.
3:30 – 4:15
Free Outdoor Yoga Class
with Yoga Durango
Yogadurango is Durango's community yoga center. They believe in connecting people in healthy ways. In successful operation since 2006, they strive to create a welcoming place for people to explore, grow and transform. Their studio supports all levels of practitioner, providing high-quality experiences with exceptional instructors. As a women-owned small business, they are dedicated to the well-being of our community and contribute to the richness and vitality that makes Durango such a wonderful place to live..